Xbox 360 Heatsink Modification
Hey guys,
I have finally gotten around to modifying my Xbox 360. I secured the GPU and CPU heatsink so that it is mounted to the chassis. I used RBJTech's excellent and easy tutorials: Fan Shroud Cooling Mod and X-Clamp Replacement(Mk III) to allow better cooling and to rid my console of the faulty X-Clamp design that the Xbox 360 comes standard with. The X-Clamp Replacement modification is based on the idea that consoles are computers and so their cooling should resemble that of a computer. Being that the cooling for the 360 is very poor to begin with considering the cheap GPU heatsink, the overused thermal paste, and the lack of the proper amount of vents makes it a disaster waiting to happen. My Xbox 360 never had a red-light issue so I was taking a risk performing it on a working console. My philosophy was to prevent the red lights from showing up on my console making it less likely to show up in the future with the mod applied. After the modification, the 360 had no issue turning on and loading into Gears of War. I played a few matches with no lag or freezing. I will check for freezing as I continue to use it.
As for the Fan Shroud modification, this had been previously added to my console to allow for better cooling of the heatsinks. After applying the mod, I reapplied the Fan Shroud mod with new electrical tape to ensure the mod would stay in place.
All in all, I am happy that all went well. If any problems occur, I will keep you all posted. Here are some pictures of the modification at some parts along the way.
My Parts list is as follows:

I highly recommend M5-.8 x16 mm screws from Lowes for both CPU and GPU. I used the 20mm ones because I thought the 16mm ones would be too short. As you can see the 20mm are too long and more expensive. The 16mm screws should work fine.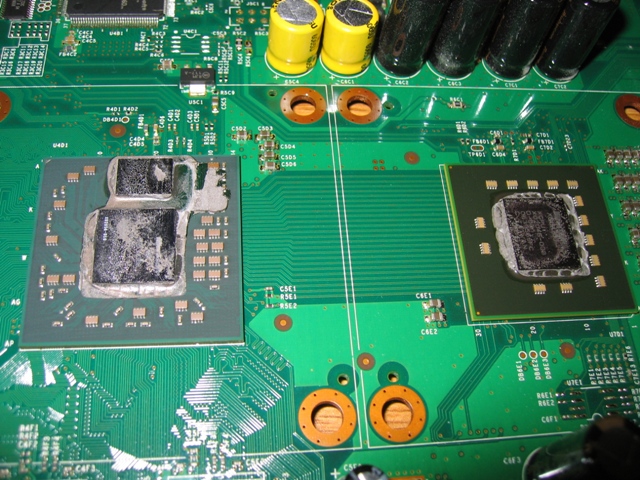 GPU and CPU Processors with Microsoft thermal paste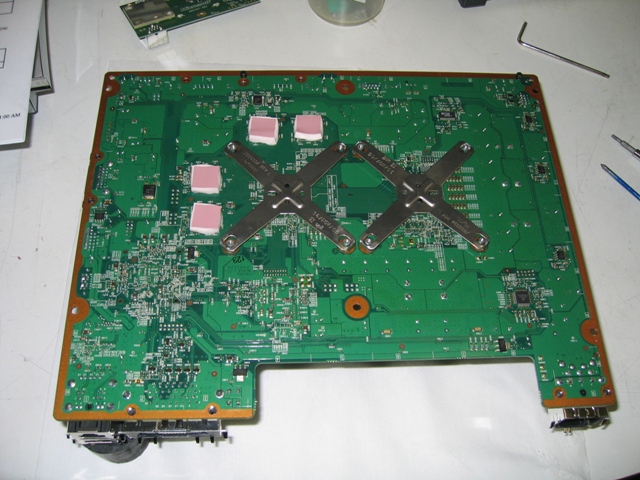 Back of Motherboard showing X-Clamps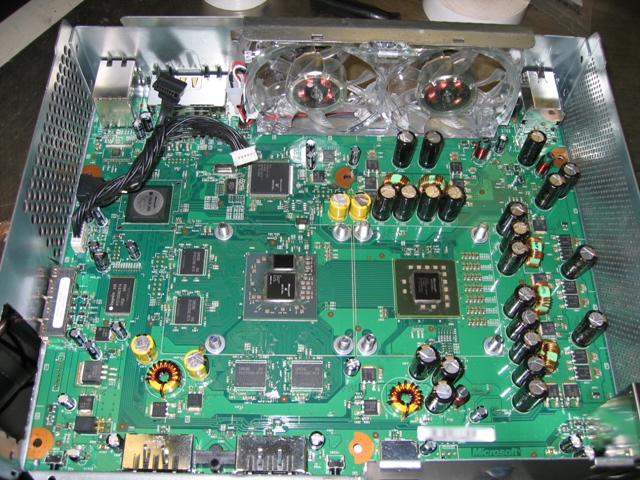 Motherboard in Prepared Chassis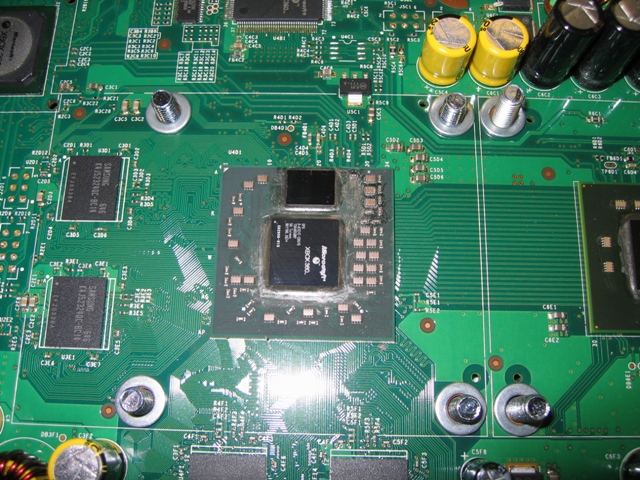 Closeup of cleaned GPU (Die is completely clean)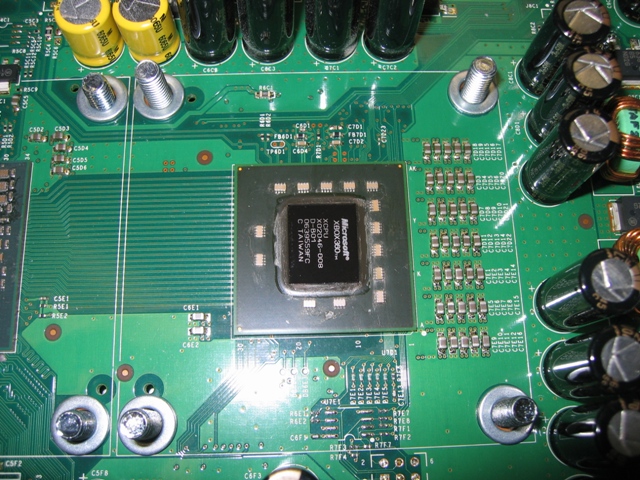 Closeup of CPU (Die was completely cleaned)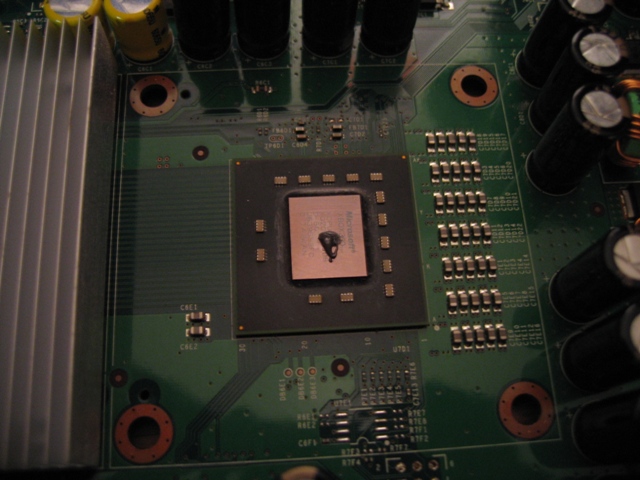 Small portion of Arctic Silver 5 was applied to CPU and GPU die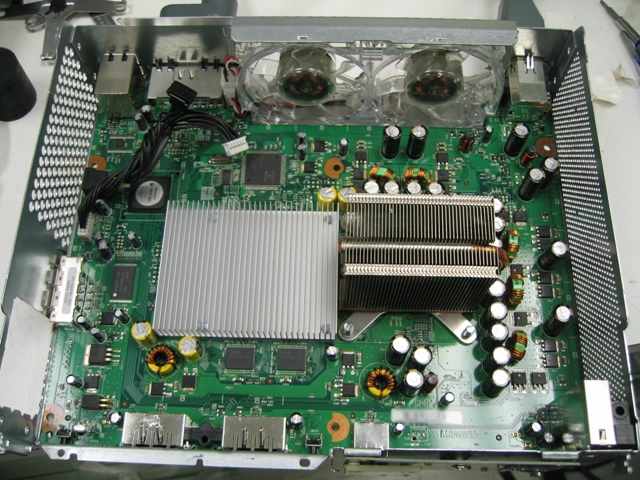 Heatsinks screwed on until tight

Closeup of CPU heatsink taped to Fan Shroud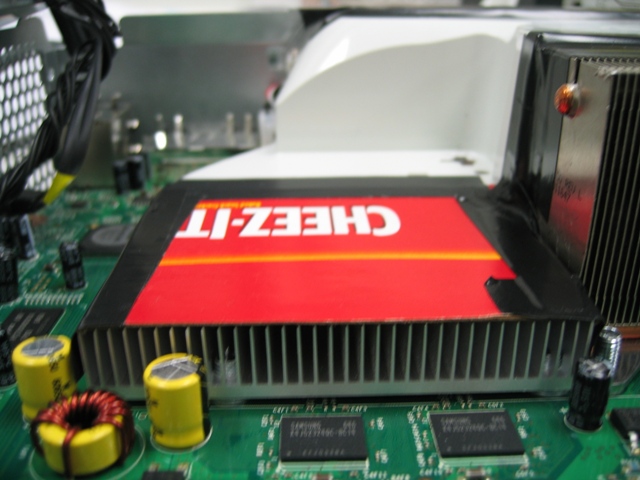 Closeup of GPU heatsink taped to Fan Shroud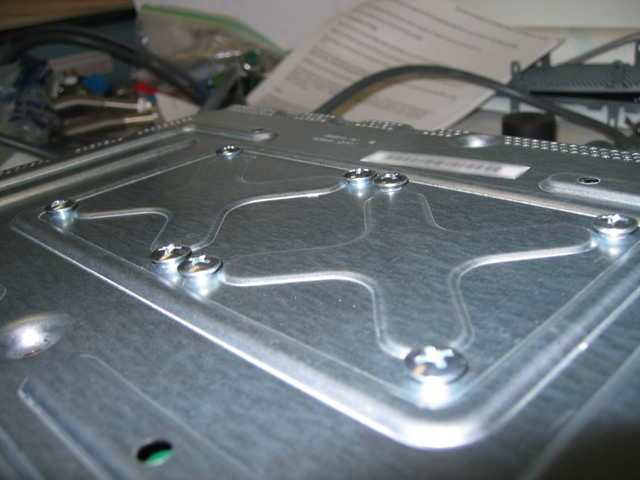 Oval Phillips M5 screws does not effect the 360 case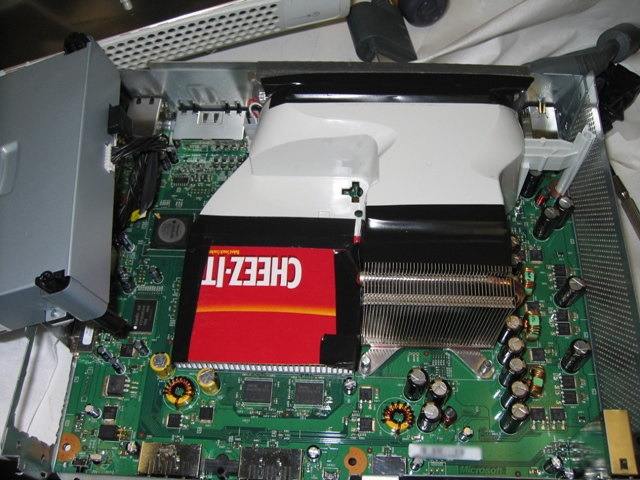 Overview of case after both mods are applied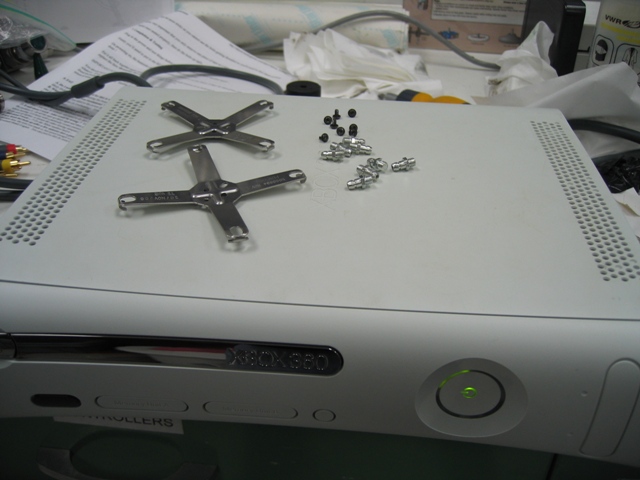 The result: Success! As you can see. I am no longer using the X-Clamps, custom heatsink holders and small black T8 screws
EDIT: The parts placement order (from RBJTech's Guide):
For each CPU bolt: Bolt, Chassis, Four Washers, Motherboard, 1 Washer, Heatsink
For each GPU bolt: Bolt, Chassis, Four Washers, Motherboard, 2 Washers, Heatsink
Ignore what I wrote in the comments for that information is wrong. This information is correct!
UPDATE (7/24/2009): My Xbox 360 is still working!! I've had only a handful a freezes in two years. Before the mod, I would get a freeze almost once a day! This mod is HIGHLY RECOMMENDED. I modded my system and had no RRODs and I doubt I'll ever get any at this rate

.
UPDATE (11/7/2009): Updated links to RBJTech's mods. My 360′s still running strong

. I've since replaced my Talismoon fans back to the original Xbox 360 fans due to much quieter and little difference in cooling (that I noticed). Also, the blue lights  from the fans were annoying at night.
UPDATE (1/20/2011): My 360 is still running like a champ. I can't even remember the last time it froze. It's amazing what a little preventative maintenance can do!

. I've been busy with college so I haven't been able to post in the comments as much. Glad this method works for people! This makes it 3 years and 5 months since the mod was performed. This mod outlived the Microsoft Extended Warranty!

.
JAmerican
104 Responses to Xbox 360 Heatsink Modification