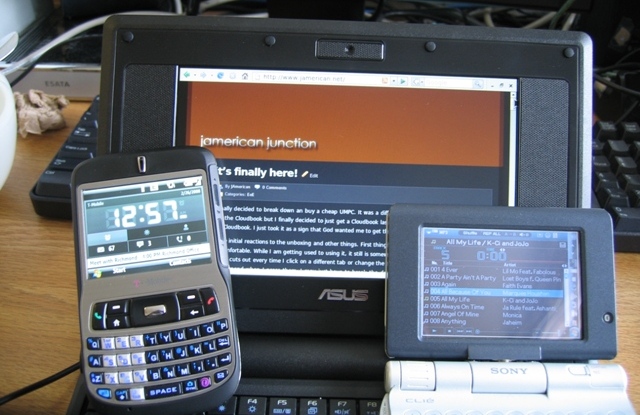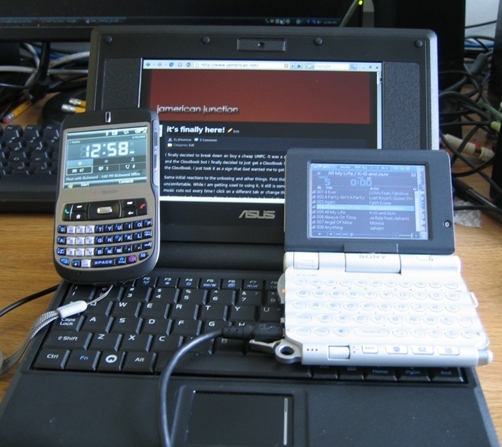 I finally decided to break down an buy a cheap UMPC. It was a difficult decision to decide between an EeE and the Cloudbook but I finally decided to just get a Cloudbook last Thursday. On Friday, Wal-Mart released the Cloudbook. I just took it as a sign that God wanted me to get the EeE instead.
Some initial reactions to the unboxing and other things. First thing I must say is that this keyboard is really uncomfortable. While I am getting used to using it, it still is somewhat of a pain. The next thing is that the music cuts out every time I click on a different tab or change the program I am using. Also, some keys do not respond when I press them. I may just have to break the device in first. Finally, the box came from Amazon mostly open. It only had two strips of tape with the words "MEJ" keeping the bo closed. My EeE works great so I don't know.
I was going to post pictures but I have a really old CF card reader that works only on Windows so I'll post some pictures later

. By the way, if anyone know how to get WordPress into a smaller format for the EEE screen, that would be great.
EDIT: Pictures added via main computer. Article typed on EeE.
JAmerican