I was able to get my hands on the Official Windows Mobile 6 (WM6) Update for the Dash and decided to do what others wouldn't, post pictures and some commentary as to how it feels compared to Windows Mobile 5 (WM5). The first thing you see is the Windows Mobile boot image then the new shiny top and bottom bars. When you go into the Start Menu, you will notice a Music Plug-in link. Once pressed, you can decide whether or not to show the plug-in on your home screen or not. The Music Plug-in reminds me of the one provided on the Samsung BlackJack. I will not post where I got it from but I recommend you do your research if you are that eager. Otherwise, wait until May 4th or 5th for the Official T-Mobile release of Windows Mobile 6 for the T-Mobile Dash.
Anyway, I will be doing some refinements and posting what works, what doesn't.
**Some tips below involve Registry editing. I am not responsible for any edits you do in the Registry. The tips will work but if you modify other values or keys accidentally, you could ruin your device.**
Update 1: I added a YouTube video of Voice Command and some applications working in Windows Mobile 6 below.
Here are some pictures…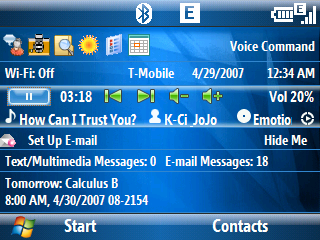 New Music Plug-in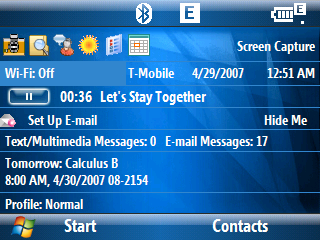 Music Plug-in Minimizes when not used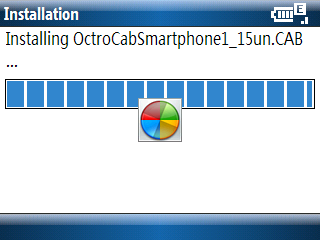 New Loading Animation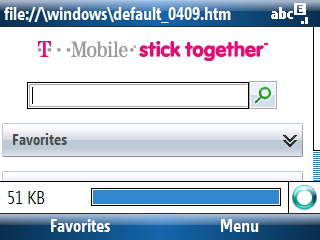 Pocket IE Home screen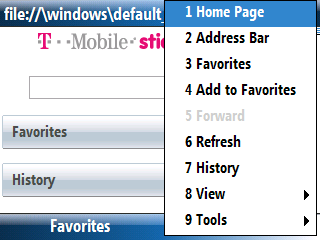 New Home Page Menu Item (to change Home Page, you need to edit the Registry: HKLM > Software > Microsoft > Internet Explorer > AboutURls. Change home_0409 value to whatever website to a website URL. If Pocket IE is open, close it and reopen it. You will see your home page now.)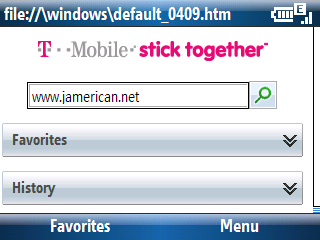 Seach for my website address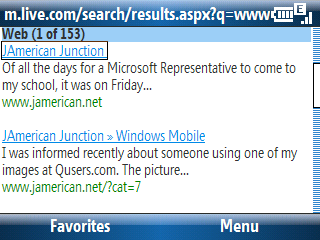 Live Search Results — Note how they scan my page for Microsoft-related topics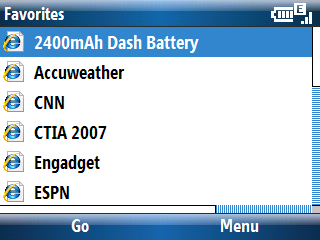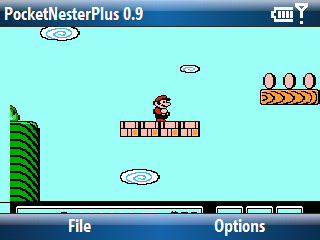 PocketNesterPlus STILL WORKS!! Feels the same if not smoother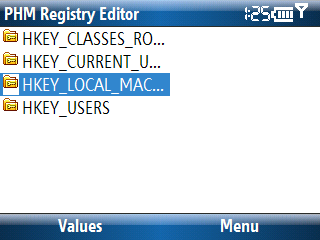 Registry Editor works fine — SNApplicationUnlock still required!!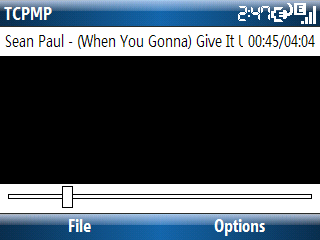 TCPMP works although it gave me "Audio Codec Not Supported" Errors — Try resetting if it does not work. If it continues not to work, uninstall and reinstall it. Videos also work great!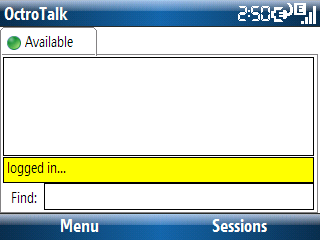 OctroTalk v1.15 works perfectly!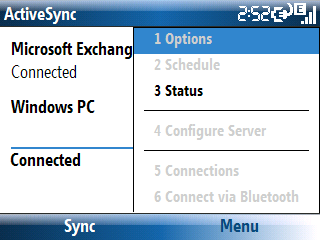 EDGE connection stays up while USB is connected to PC!! You can disable this if you want in ActiveSync Connection Settings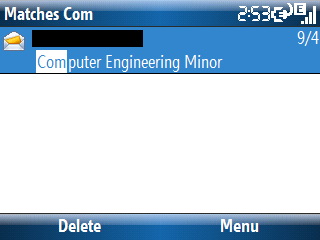 Real-time E-mail Search

Alpha-numeric dialing from thumbboard (to dial letters with numbers on them, hold down ALT and press the key)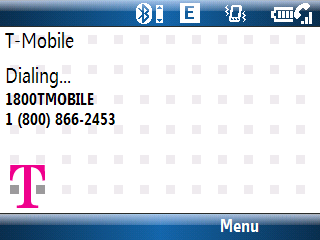 Phone application converts letters to their respective numbers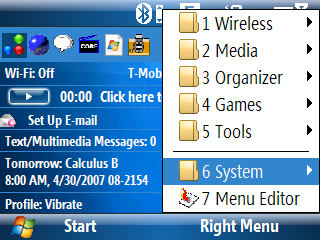 Right Menu works and looks great due to the updated folder icon
Let me know what else you would like to see by commenting below. I have also tested the Stowaway Ultra-thin BT Keyboard and it works perfectly with Word Mobile! Word Mobile is much faster than DocumentsToGo. I have not installed DocumentsToGo on my WM6 Dash but on my WM5 Dash, there was some definite lag when using thumbboard or Stowaway Ultra-thin BT Keyboard.
I have yet to find an application that didn't work on my Dash. They may be out there but for now, my device seems to work great. Voice Command is also way better in Windows Mobile 6 than it ever was in Windows Mobile 5. The Voice Recognition seems to work better as well as there is actual feedback where before in WM5, there was only a beep.
Update 1: ————-
I've decided to add a YouTube video of Voice Command as well as some other things working in WM6

…
[youtube]USrQ7h-Hflg[/youtube] 
——————-
Update 2: ————-
Adobe Reader LE replaces the Clearvue PDF viewer…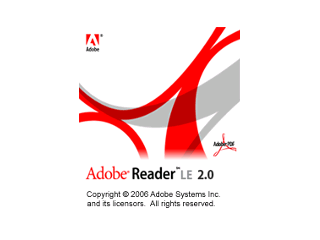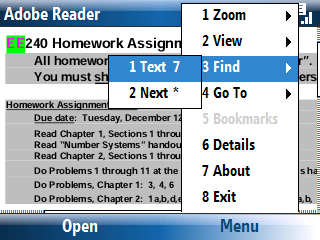 Search for Text in PDF files (not sure if ClearVue PDF had this functionality)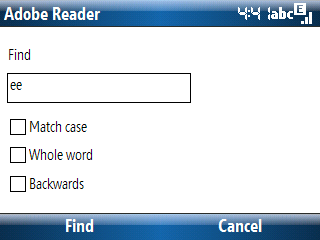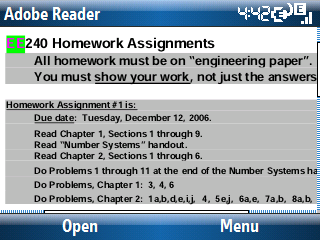 Update 3: —————-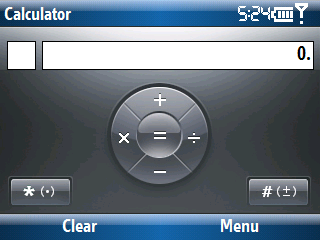 Updated Calculator Application
—————————
JAmerican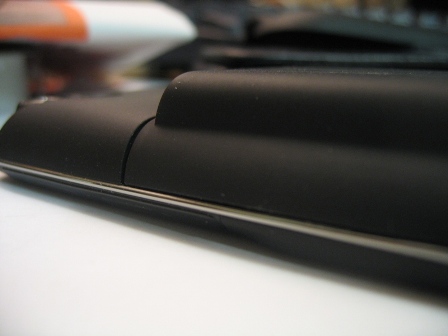 I finally received an actual extended battery for my T-Mobile Dash. I ordered 2400mAh battery from ETen Webshop two weeks ago. The total cost was $81.86. The site offers free shipping worldwide but charge you a 4% fee if you use PayPal. While I have yet to even try it due to it's charging, I know that I hope I will not be disappointed. I learned that there were extended batteries available for the Dash from mknewman at Brighthand Forums in his thread Big batteries for the Dash. Being the kind of person that used his device as a media player as well as for internet, I knew that the 2400mAh battery would be perfect if not the best option for me. The 1200mAh battery was way too close to the 1050mAh battery I bought earlier.
I will update you all as to how I like/hate the extended battery. The one thing that I've already come to dislike is the fact that I had to remove my protective casing from the Dash. While I could cut out the back of the Smoke casing, I doubt that I will. To give you an idea of the thickness, I posted some photos below.
Update 1 (4/26/2007):————–
Having used my device since 7:30AM in the morning of April 25th, my device is now (1:24 AM EST GMT-4) at 40%. This is quite remarkable having used WiFi earlier today along with using my device as a music player from time to time throughout the day. I also got some NES action in there as well. I really wanted to kill the battery so that I could fully recharge it in one charge but I guess I won't be able to accomplish that. The battery is definately worth it so far. I will see what tomorrow yields

.
————————————– 
I think the Scotch Tape photo is the best in showing the overall thickness (click photos for larger image):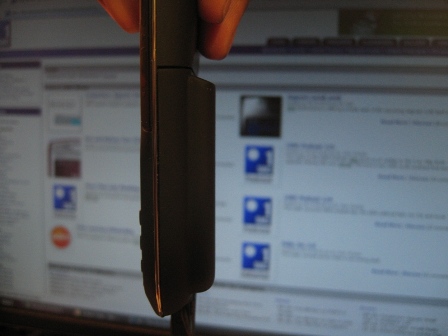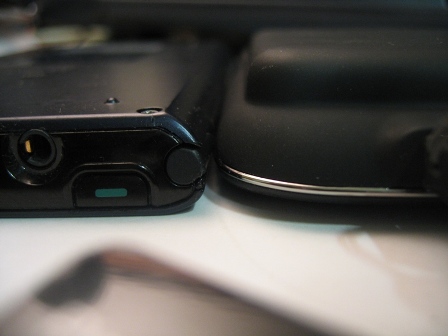 Palm TX to left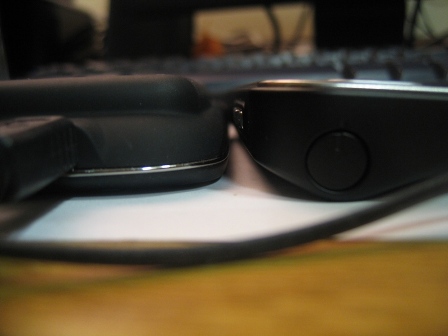 Nokia N800 to right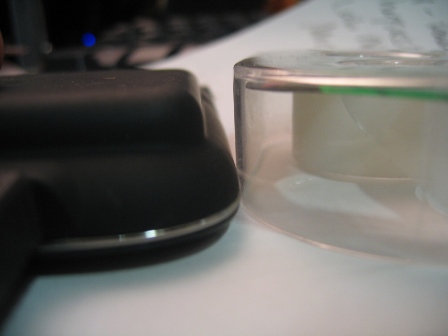 Scotch Tape to right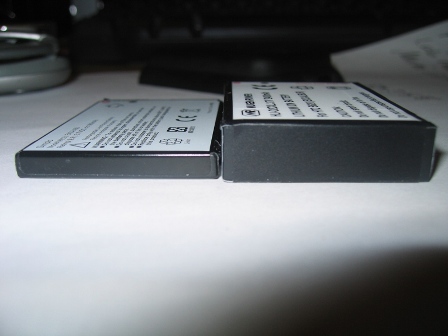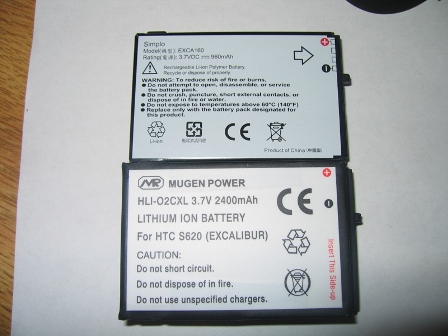 JAmerican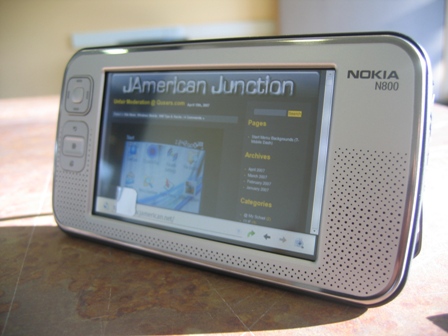 Thanks to Reggie Suplido, the founder of 1src and InternetTabletTalk, I have the chance to try out the Nokia N800. I will be writing a review for it soon but I decided to take a different approach to this review. I want an interactive review. I want you guys to post in the comments what you want me to try out or just questions you want answered in regards to the N800′s OS, battery life, screen, etc. I will try my best to compare the Internet Tablet 2007 Edition to that of Palm OS and Windows Mobile Smartphone.
I only have two weeks starting today to use the device and find out answers for your questions. I will also be getting an iGo Stowaway Universal Bluetooth Keyboard as well.
So please post below to make this review be your personal review. I will include it if possible in the review. You have until April 27th.
Start commenting!!
Update [off-topic]:—————-
As for comments made by viewers in previous posts, I appologize. I haven't been able to get to the site due to school issues. I think its in my best interest that I focus on my school work so that I am able to pass my classes as well as continue to update my thread. I hopefully will get all my school work done this weekend and dedicate some time to answering your posts. This is wishful thinking but I hope it happens this way.
———————————–
JAmerican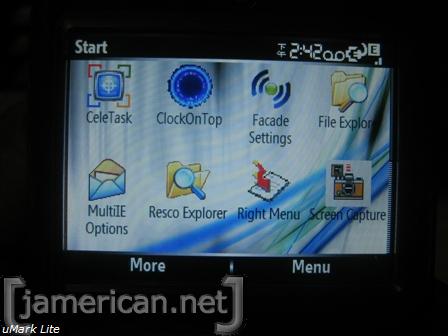 I was informed recently about someone using one of my images at Qusers.com. The picture was taken in the dark and had only the screen visible. The user rollsroyce1400 posted information about ClockOnTop but did not state where he got the image from. Another user by the name of Cool called him out on it. Some minutes later, I posted thanking Cool and posted the link to my site and the blog post I have related to it. I checked back an hour later and Cool's post as well as my post were gone. The rollsroyce1400 posted another image and the mods acted like nothing had happened. I posted again asking for the moderators to be fair and for rollsroyce1400 to state the source. That too was removed. I took a screenshot below for you guys to see for yourself. I've never seen such unfair and rude moderation in my life!!! I definately will start to watermark all my images and try to prevent hotlinking.
Thanks again to Cool who posted and G-Funkster who sent me the email to me regarding this matter.
Here is the proof that they are deleting posts that ruin their reputation…
http://www.jamerican.net/JJFiles/proof.PNG
http://www.jamerican.net/JJFiles/Dash/qusers.htm
Google Cache –Thanks g-funkster
Qusers thread: ClockonTop…….must have freeware app

I would recommend all Motorola Q users or Windows Mobile Smartphone Users to try and sign up to other sites because your posts may also be manipulated if the mods don't like you.
Update 1:——————–
Message I sent to Moderator tom108:
I am not sure who keeps deleting my posts here…

http://www.qusers.com/forum/viewtopic.php?t=9884

but I was wondering why?

Why is it that I am trying to put the source of rollsroyce information and it keeps being deleted? I am a new user. My brother has a Moto Q and I have a T-Mobile Dash. Its basically the same thing so I could be of help here but it seems that my help is not wanted here. Again, even though my image was not properly sourced. I think the original poster should be the one who deserves this treatment. Not the one trying to publicize the mistake of the poster.

Think of it in your position. If I took images from Qusers and posted it on my site without your consent, I think you would be upset with my actions.

I am just asking you guys to be fair and it seems like that's not happening.

JAmerican
Update 2:——————–
Message from Moderator tom108:
I will look into this however. i don't think the original poster claimed that pic to be his. if you are the author of this software i can understand you wanting credit however all he did was post an image. i decided to swap that image out for him so no one would fuss. there is no reason to add more links outside the site for the software if it is not needed.

we don't really mind image linking here since it helps with google indexing to have the links spread across the web. if you have some usefull info to add to the post please do. if you don't want your images used you can add the option on your site host to stop outside hyperlinking to them.

after all that is said. Welcome to the forum. there is lots here that you can use on your phone as well.

see you on the boards.
Update 3:——————–
Message to Moderator tom108:
He posting the image did not upset me. It's the fact that Cool's and my posts were removed. It seems as if there was something to hide.

I am not the original author the application and I state that on my site. If you could look into whose been removing my posts, that would help a lot. I just felt that Cool and I were being treated unfairly that's all.

JAmerican
Message from Moderator tom108:
no problem. it is hard to tell now. but i have my eye on it so no worries. join the fun i will have your back.

-Tom
Well it seems that this has all been resolved for the most part through Tom. I will be posting on Qusers.com a link to this thread so that this issue is publicized and not covered up. What a day.
Update 4:——————–
G-Funkster pointed out that rollsroyce didn't copy the link from my site into the thread. He created a tinyurl link of my picture completely stealing it. The Google Cache file posted above exposes this. Now I am just mad period. I take back what I said. This was just sneaky and underhanded. Qusers.com should just be ashamed of themselves. Someone steals from someone else and they help cover it up.
The tinyurl link can be seen here…
http://i15.tinypic.com/2w6sydt.jpg
Once again thanks to G-Funkster and Google Cache for bringing the truth to light.
——————————
JAmerican
Of all the days for a Microsoft Representative to come to my school, it was on Friday the 13th. The presenter was actually an alumnus of my school which was pretty cool. He went through talking about why we needed Vista. After talking for around 15 to 20 minutes, we saw a demo. The demo went through features like:
Going through the newer Vista features, Shadow Copy allows you to backtrack to earlier versions of an edited file. You don't have to worry about overwriting information in an important document. The one stipulation with this is that the first version of the edited file is not held for a very long time if you constantly edit the file. The time the file is kept for was not said but the disclaimer was put out there. DreamScene is an add-on for Vista that allows you to use movie clips as your background. We were told that the animated background should continue to work while using Aero Flip but DreamScene became static and there was a loud applause from the audience.
Going through some of the Office features, the Equation Editor is a feature that I've always wanted. It supplies you with some key equations such as the Quadratic Formula as well as allows you to add your own equations. It also allows you to edit some of the key equations provided. Citations are another cool feature that allows you to easily add references to your papers without going to sites like EasyBib. Citations does not allow you to add research sites and use them as a template for research coming from one site so hopefully this will be included in updates to come. SmartArt adds a nice touch to presentations but is in reality a shiny version of AutoShapes. Groove is a P2P application that allows you to share files although it was not demoed because it required some kind of log in information.
The presenter offered people who came a chance to win one of 15 copies of Vista Ultimate, 5 copies of Microsoft Office 2007, 5 copies of Vista Business, 2 copies of Gears of War and 1 copy of Halo 2. I won none of the prizes but at the end of the day, it didn't really matter because Engineering students get Microsoft software for free via MSDN Academic Alliance (MSDNAA). The only software that is not offered is Microsoft Office and Windows Vista Ultimate. The reasons for why these pieces of software are not provided are due to intellectual property. Windows Media Center uses a certain codec or library that is property of Adobe. Adobe is making sure that they are paid for these codecs, which makes it more difficult for Microsoft to release Vista to students for free.
I did ask about Windows Mobile 6 but the presenter had little to no knowledge as to when it will be released via updates from T-Mobile or any other carrier. He did say that Cingular and Microsoft are somewhat disconnected due to the deal they made with Apple. He also talked about possibilities of the Zune Phone coming to T-Mobile if it's GSM. Again, he referred to Cingular's iPhone commitment.
I had my T-Mobile Dash on me at the time but no camera so I was able to get a video of the presenter's Xbox 360 video background. It is posted below.
[youtube]QZes5dyWgFE[/youTube]
Update 1:————————–
Actually Microsoft Office is not offered in MSDNAA because its the piece of software Microsoft has to make money off of to offer their other software for free the presenter said. The intellectual property with Adobe relates only to Media Center and versions of Windows Vista with it (Home Premium and Ultimate).
————————————
JAmerican