I bought a 1050mAh battery off of eBay and received it with the case. I was going to post about it when I used it for a full day but couldn't wait. LOL.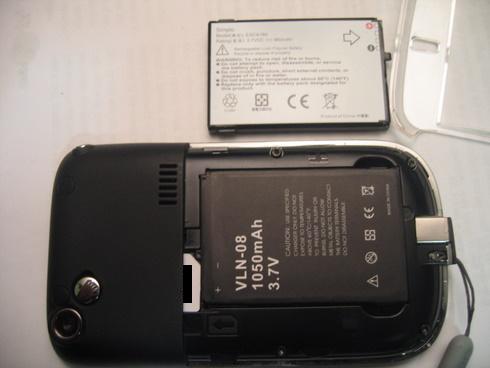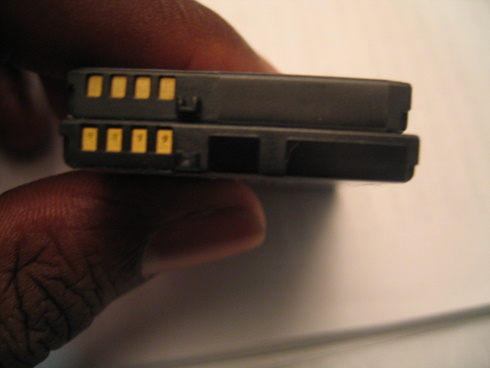 (1050mAh battery on top. 960mAh battery on bottom)
Its somewhat of a tight fit due to the battery is a little thicker but it fits. You will need to press more against the back case to get the cover off.
EDIT: Make sure to check the comments to see some recent comments in regard to this battery.
I just switched back to the OEM battery because after 7 hours of use, the battery died on me. This is only a few days after receiving the battery. I used only EDGE, 3 minutes of WiFi, Internet Explorer, played Bejeweled, and OctroTalk. Having used my OEM battery for much longer and having used my device as a media player with the battery shows which battery is truly extended. I will be posting more results later in regards to how the OEM holds up now that I am using it again.
EDIT 2:
After fully discharging the Dash and fully charging it without any discharging in between, I was able to use the Dash for 12 hours straight. I am going to try and do this a couple more times to maximize the battery life. If this does not work, I may be looking into purchasing the 1600mAh extended battery, if I can find an American reseller.
JAmerican
I decided to try something different than the ordinary written review. So I recorded a short video where I go through some of the specifications and qualities I like about the snap-on case. The only thing I didn't like was that I have to use my nail now to press the top-directional button and the button part of the case that is below the JOGGR has not been smoothed out so it could become an annoyance. I have also installed a 1050mAh battery in my Dash so I will be doing a review about that next. Stay tuned for the TX + T610 vs T-Mobile Dash review soon to come.
As was said the case was manufactured by iGoneMobile. This is a direct link to the T-Mobile Dash section.
[youtube]kLhY0e-nUc4[/youtube]
Leave your comments here or at YouTube!

.
EDIT 1———
BTW, that plastic piece on the back of the case is removable. The case comes with it as an accessory. It is not attached on arrival. You will need an eyeglass Phillips screwdriver to attach it to the case.
—————-
Here are some pictures…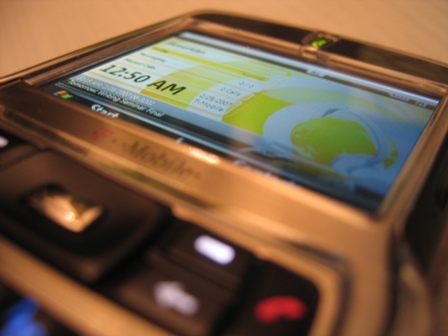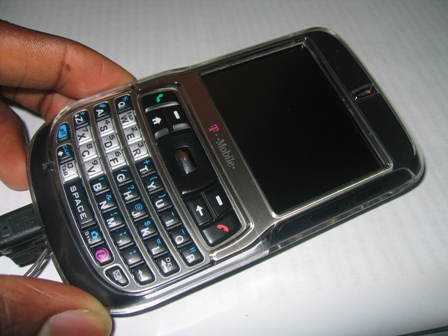 JAmerican
While browsing through my T-Mobile Dash I found this key in the Registry under
HKLM/Drivers/Builtin/SDHC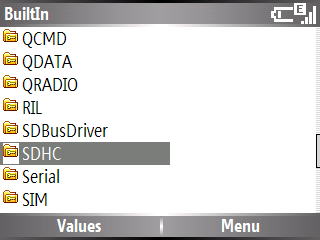 In the key there were the following values…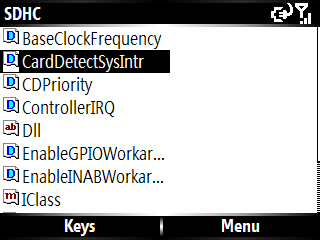 The one value in particular was the Dll which pointed to a file "OMAP850_SDHC_MUX.dll"
Being curious, I used Total Commander to find the file and low and behold…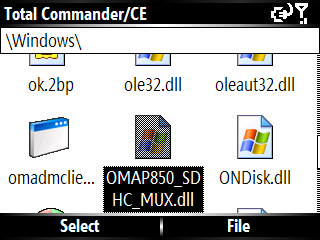 I personally have not tried a SDHC microSD because I don't have one and I don't believe any are available but I bet that if anyone tried, it would work. Unless, it needs to be enabled in some way.
EDIT 1:——————-
Ok g-funkster clarified that SDHC does not mean Secure Digital High Capacity but it means Secure Digital Host Controller. Thanks SD Association for using the same acronym for two different purposes in the SD arena. Anyway, sorry for getting any hopes up. I hope SDHC is still supported on the Dash running WM5. If not, I hope WM6 enables such functionality.
—————————
JAmerican
The reason is WiFi.
T-Mobile is quite possibly the only carrier in the US that pushes the ability for handhelds to have WiFi. If you look at their current line up of handhelds that aren't Blackberry or Sidekick, you have all WiFi-based devices. Now you may be saying well the Sidekick and Blackberry don't have WiFi. That's true but the Blackberry still has more of a business presence than the Treo. The Treo may be used in corporate offices but not as widespread as the Blackberry. Now that leaves the Sidekick right. The Sidekick was a venture that T-Mobile was smart to grab. They saw early on that a communication device for teenagers to young adults was a key device to have. I had the first Sidekick and loved it even when it was Black & White; due to it was reliable much like the Blackberry is. But it was limited! Now Palm could easily replace the Sidekick and Blackberry, but due to Blackberry's lead and limitation on applications, it is supposedly the better and more secure business solution. Having worked for a company that used T-Mobile and Cingular Blackberries, they definately don't want to drop that. Don't forget, T-Mobile is a GSM company meaning its bands work in other parts of the world unlike Sprint and Verizon.
The second reason I believe this is because of T-Mobile Hotspots. T-Mobile is on a mission to bring WiFi Hotspots to multiple cities and regions across the US and the World. So far they have 8,292 hotspots in the United States. While the hotspots are not as widespread as WAN networks such as EDGE and EVDO are, they provide much faster internet. Having looked at their hotspots page, they clearly push the mobile devices they offer for regular cell service for hotspot service as well…
http://hotspot.t-mobile.com/services_need.htm
Palm has to put this myth to rest about cellular companies not wanting WiFi in their cellphones due to it would take away from their data plans. There is clearly one company that wants it more than anything and stopped offering Treos after the 600.
T-Mobile has their low end non-data phones. Their mid-range (although expensive) Sidekick and lower-end Blackberries. They have their business-class Blackberries. They have merged their business-line with their mid-range line in introducing the MDA, the T-Mobile Dash and SDA all with WiFi.
I have a feeling that if Palm offered a WiFi Treo, T-Mobile would be one of the carriers to pick it up if not the first.
If Palm can experiment with a harddrive in a PDA, why not experiment with what they already know, WiFi, PDAs and cellphones.
JAmerican
I started a contest over at 1src for people to guess what my new smartphone was. Two days later, I received it in the mail: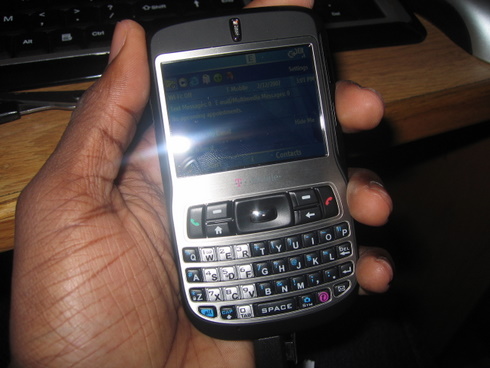 The T-Mobile Dash. And yes, its running Windows Mobile.
I found a website with an amazing rebate offer that allowed me to get the Dash for $99 up front and on top of that a $50 rebate. The details are in the following link…
http://www.fatwallet.com/forums/messageview.php?start=0&catid=18&threadid=668270
I will be doing a full review when I have the time to. I am currently near the end of my quarter in college so the workload makes it hard to even post this or get my site back up fully. Let me know what you would like to see a review of from the T-Mobile Dash. The review will be similar to the one I did with the UX vs. the TX. The T-Mobile Dash review will compare the TX + T610 to the T-Mobile Dash, being that the last working solution I was using.
EDIT 1———–

Ok I fixed the calendar non-sync issue. A stupid error on ActiveSync's part. Since the end of my quarter of college is coming, my classes were set to end the 23rd of February. Being that that's soon, ActiveSync ignored my reoccuring classes. But I think its a bigger issue than that because other reoccuring items with no limit did not sync. Anyway, I had to open each item in its series > Click Reoccurances > Click OK (without editing anything) > Save and Continue > Look on device and the item appeared.
Really buggy in my opinion or something. Oh well it works.
——————
JAmerican