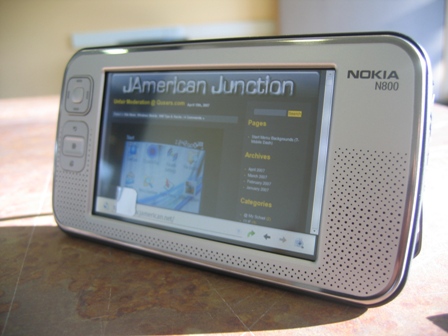 Thanks to Reggie Suplido, the founder of 1src and InternetTabletTalk, I have the chance to try out the Nokia N800. I will be writing a review for it soon but I decided to take a different approach to this review. I want an interactive review. I want you guys to post in the comments what you want me to try out or just questions you want answered in regards to the N800′s OS, battery life, screen, etc. I will try my best to compare the Internet Tablet 2007 Edition to that of Palm OS and Windows Mobile Smartphone.
I only have two weeks starting today to use the device and find out answers for your questions. I will also be getting an iGo Stowaway Universal Bluetooth Keyboard as well.
So please post below to make this review be your personal review. I will include it if possible in the review. You have until April 27th.
Start commenting!!
Update [off-topic]:—————-
As for comments made by viewers in previous posts, I appologize. I haven't been able to get to the site due to school issues. I think its in my best interest that I focus on my school work so that I am able to pass my classes as well as continue to update my thread. I hopefully will get all my school work done this weekend and dedicate some time to answering your posts. This is wishful thinking but I hope it happens this way.
———————————–
JAmerican